"Unification of the Dates of Easter"
Special True Life in God Ecumenical Prayer Meeting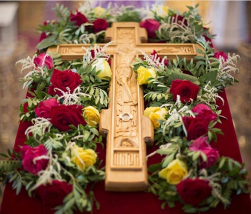 Sunday March 26,2023 – 3pm EST
(12pm PST – 1pm MST – 2pm CST – 8pm GMT London – 9pm Paris)
The American Association for True Life in God West Region will be hosting another International Prayer Meeting.  The intention is for the "Unification of the Dates of Easter"
The prayer meeting will incorporate, as always, prayers from different Christian traditions. We will pray ALL FOUR mysteries of the Holy Rosary & the TLIG Stations of the Cross (very powerful prayers from the Catholic tradition.
The prayer meeting will last about 3 hours in total.   ALL are welcome to join us in prayer for Uniting the Dates of Easter!
This will be a LIVE event hosted on our international website at:  https://ww3.tlig.org/live/ There youc an also find links to the Prayer Meeting Guidelines which contain the different prayers including the Rosary and Stations of the Cross.
– will I, brother, one more season go through the pain I have been going through year after year? or will you give Me rest this time? am I going to drink one more season the Cup of your division? or will you rest My Body and unify, for My sake, the Feast of Easter?
in unifying the date of Easter, you will alleviate My pain, brother, and you will rejoice in Me and I in you; and I will have the sight of many restored; "my Beloved! my Creator! He who is my husband has revealed to us things that no human hand could have performed!" this is what you will cry out, once your sight is restored, in My Name,  October 14,1991
You can also view from the TLIG Youtube Channel or Facebook page.  Again, all are welcome.  Spread the word!