True Life in God Online Study Group
For well over a year now, the American Association for True Life in God has been hosting Theologian Father Joseph Iannuzzi, STL, S.Th.D. every other Thursday evening in an Online Study Group for all True Life in God Readers that want to attend.

Bi-Weekly Thursday's @ 8pm ET
TLIG Study Group with Fr Joe Iannuzzi
Previously recorded study group sessions can be found on our YouTube Channel
The study group has been a great success helping participants advance in a deeper understanding of the TLIG Messages that are meant for these End Times. The aim of this meeting is to contemplate, discuss and deepen our personal union with God through the inner meaning of the TLIG messages.   Fr. Joseph is happy to offer theological counsel and he is no less eager to work together with all of you for the glory of God and the good of souls.
Please use the "Stay Connected" form on this page to sign up to receive information on how to join via Zoom and to receive reminders.
The American Association would like to show our gratitude to Fr Joseph for his dedication to this very successful group by providing him a free will offering for him and to  support his mission. If you would like to help, please visit our donation page.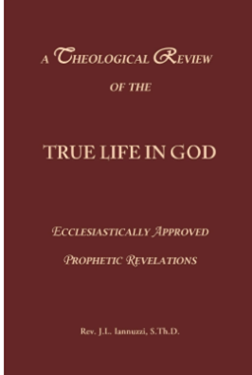 Please also note that Fr Joseph has also published some very interesting books.  Of particular interest is of course,
"A Theological Review of the Ecclesiastically Approved TRUE LIFE IN GOD Prophetic Revelations."
This book, bearing the accolades of two Bishops, would make a timely gift to bishops and priests.
Other books that Fr Joe has written and published can be found on Amazon and other bookstores.