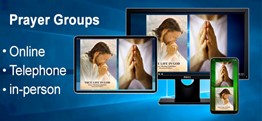 Vassula has told us that Jesus desires us to form TLIG Prayer groups and meet weekly, at the minimum.  Jesus desires that our love grows "heart for Heart" (TLIG Jan. 13, 1997) and to accomplish this by gathering together (Matt. 18:20: Where two or three are gathered in my name, there am I among them).
Our prayer groups are unique in their TLIG Spirituality and help is offered to the participants from the SACRED HEART to their own heart.
If distance is an issue, no problem…you do not need to travel far to attend any specific Prayer Group. You could attend an online Prayer meeting using your computer, or by telephone, or just find a Prayer Group near you.
If none of the above suits you, then please form a new Prayer Group, even if it consists of a handful of people!  Just obtain the Prayer Guidelines booklet and follow it. Only pray earnestly and God will help you.
Let us therefore remember that one important way to evangelize is to invite people to attend a TLIG Prayer Group meeting. If you have not been invited to one, then please seek one in person or online or even start one!  Here are some resources that you may find helpful.