Online Charity Raffle:
"CHRIST'S AGONY IN GETHSEMANE" CANVAS PAINTING
Donate $100 for a chance to win Vassula's painting of "Christ's Agony in Gethsemane" canvas.  Hand signed by Vassula - the same hand that write the Messages of True Life in God!
All donations go to supporting the TLIG Mission and to help priests participate in this year's TLIG Ecumenical Pilgrimage to Egypt.
This is an original Limited Edition Giclée on Canvas Print, measuring 48" x 36" inches (122 cm x 92 cm), and is printed with pigmented inks strictly limited to a quantity of 250.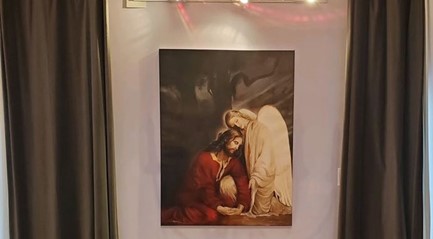 Each print is hand signed and authorized by the artist, Vassula Rydén, as a faithful reproduction of the original oil painting. Vassula Rydén has personally inspected, numbered, approved and signed each print. No unsigned or unnumbered copies within the edition exist. Fine materials are used to ensure long lasting beauty to protect your investment in fine art. To properly care for your print on canvas, protect it from strong ultraviolet radiation such as direct sunlight. Reproductions of the image you see may not be made.
All rights to this image are fully retained by VassulaRydén.   There will be no copyright protection on the Canvas you receive.
The image of the canvas you see depicted above is "stretched" and is just an EXAMPLE of what you can do with the print.  Others frame it.   It's your choice.
This also makes a great offering to a church or gift to a friend or family member.  Prayer groups may also obtain a copy for their meetings.
DRAWING DATE: September 8, 2023
ONE name will be drawn using a random generator tool.  The winner will be announced the same day.  If you want your name entered more than once, you need to offer $100 separately for each entry.