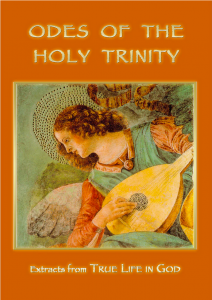 "Odes of the Holy Trinity " Extracts from True Life in God booklet has been reprinted and is now in available once again.
For those that don't remember, the "Odes" were given to Vassula by the Blessed Trinity in 2003.  First the Father spoke, then Jesus and then the Holy Spirit.   These were the final Messages published at that time before the Lord requested Vassula to hold back further Messages from being published.  This period of time (where no new Messages that Vassula received were being published) lasted years.   The first Volume of the Messages finished with the Odes of the Holy Trinity.
Here is an excerpt from Jesus on the meaning of this booklet
Vassula, proclaim all My wonders to every nation; innocence and integrity will receive Me with open arms and will profit from My wonders; I need to re-educate My people to learn to pay tribute to the Father, to Me and to the Holy Spirit; to pay tribute to Our Glory and Power, tribute to Our Mercy and Goodness, tribute to Our miracles and Our signs; this is why I have to re-educate them to learn how to seek My Holy Face and recognise it; when your foundations fall to ruin, am I not to intervene? have you not read that I never ceased to work?1 but to believe that I have ceased to enrich My creation with abundant gifts as in ancient times, is the most harmful of heresies! every work that I do is full of glory and majesty; My Works are sublime and those who delight in them are right to fix their eyes on them; My courier, make haste at your King's command to write this Ode, giving it the name:
"Odes of the Holy Trinity"
then make it known in every city, every province and honour Us; the Father will address you now…
(That was Jesus Christ.)
1 Jn. 5:17.
To order your copies of the Odes of the Holy Trinity, visit the AATIG Online Bookstore