Joyful and Fun Hours with Jesus!
It was a warm, sunny, summer day, Sunday, July 16th, 2023. We were inspired to share the TLIG Messages at the Detroit Bookfest. Coincidentally, it was also the Sunday of the Gospel of the parable of the Sower.
The Detroit Festival of Books is a free annual event, which takes place the third Sunday in July at Eastern Market, and attracts over 10,000 attendees.
Of course, as it turned out, it was a little too late to reserve a table at the festival, but we decided to attend anyway and make the best of it. As Jesus asks us in the TLIG Messages: "do your best and I will do the rest!"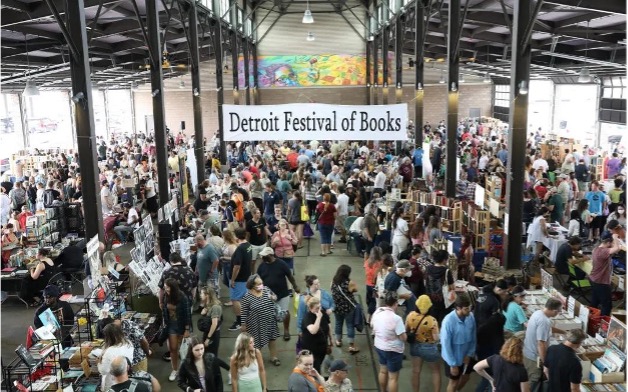 We arrived a little late, so the festival was already in full swing, with heavy traffic all through the different book stands of book sellers and authors. After a short prayer to Saint Anthony we quickly found a close parking spot near Shed 5, the location of the Bookfest which was now in its 6th year.
A little more background information about the location of the Bookfest:
"Located in the historic "Easter Market '' in the heart of Detroit. First opened in 1841 at Cadillac Square in the downtown area. Today Eastern Market is the largest open-air flowerbed market in the United States and the largest historic public market district in the United States. Bustling with as many as 45,000 visitors on a weekend day. More than 150 food and specialty businesses are located within the market district selling all types of goods including produce, meat, spices, jams, flowers, and poultry."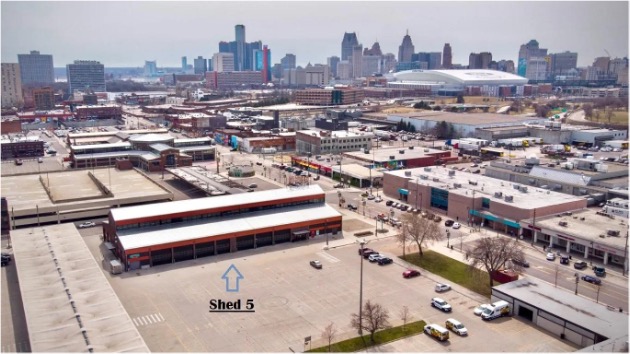 Going inside, we had plenty of small business cards with the QR code of the TLIG website and Jack had the One book in his hand and an original handwriting book with Jesus' picture on it. Lisa had a little backpack with a couple of different TLIG books.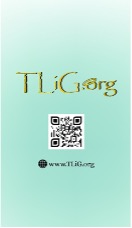 We were also inspired to share a random TLIG message. So we came into the shed and walked over to the first book booth and talked to the bookseller, to test the waters, so to speak, and see if it would work. The middle aged guy appeared to be not too interested when talking about a Message from God, but then we said: "Could we read for you a small part of it?", and he responded: "Yes!" So Jesus chose a passage where He expressed His Love for him, and acknowledged his hard work throughout the years. The bookseller appeared to be drawn in, and said he would read the Messages himself!
We decided to continue sharing the TLIG Messages, the TLIG card, and a random message, with those willing to listen. Standing in the empty space, between two booksellers, we passed out the cards to everyone walking by. As the flow was heavy, most took the card, but some said: "No, thank you", while others listened and smiled to our greeting of: "God loves you the way you are!" Some people looked at us like we were from a different planet!🙂 But Jesus still had some surprises left!
Jesus said to a girl that: "she will be consoled", and the girl was so happy and thankful to hear it!
We met a retired pastor, who served for 37 years, close to the same amount of years of the life of the TLIG messages. He listened attentively to a random Message and then cried with emotion.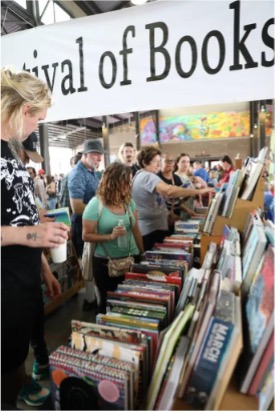 We also asked the name of the person willing to hear a random Message. In this way, when reading a message to them, we were able to replace Vassula's name with theirs. And Jesus showed His sense of humor, when a young man answered to Jack: "my name is Jack!". Standing around us for a long time, Jack was very intrigued, asking all possible questions about the TLIG Messages, and he was super happy to receive a random Message! We offered Jack the book, "When God gives a sign", and he graciously accepted!
After some time, we decided to go around to the many bookseller stands and tables. One author wrote a book about his political persecution experience, and the injustices in the current judicial system. As he tried to guess whether Jack is from Russia or Ukraine, he was happy to hear that Jack is of Polish descent, just like him! After talking about his book, he was open to listen to a random TLIG message. That random message was about how Jesus knows how he feels, and that He cares and understands his concern. The author listened to it attentively and appeared to be very emotional and immediately burst into tears!
Another author was a lady who loves to write about the history of the Catholic churches in the Metro Detroit area. She was very welcoming to hear a random message! Jesus expressed His gratitude for her work, and called her: "His beloved bride!" Jesus was happy that she taught others to come closer to Him. The author was teary eyed after listening, and said, "oh my goodness, oh my goodness!"
The event was winding down and we were thinking of giving out the original handwriting book, when a lady came up to us asking: "What is that book?" pointing to Jesus' picture. After reading a random message to her, we explained how Jesus asks us to replace Vassula's name with ours. Then we pointed out to her the difference between Jesus' and Vasula's handwriting. Offering the book to her, she was very excited to receive it!
After a couple of hours at the event, walking back to our car, we found the best tasting homemade vanilla bean ice cream! Certainly a treat from Jesus! And served by a very friendly lady who joyfully accepted the TLIG card.
Jesus is good, all the time, to everyone! It was so much fun to walk around with Him by our side, sharing His Love Hymn! Thank you Jesus!❤🙏
Lastly, let us shower with our prayers those who receive the Messages for the first time! May they be open to God's saving Messages of True Life in God. 🙏
Thank you and God bless! We, Us!
Jack & Lisa